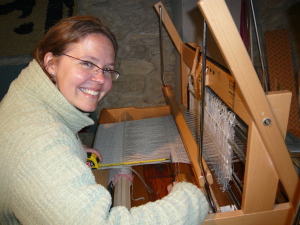 Weaving and Natural Dyeing Textile Assistantship   Next Dates - Please inquire by email "I loved all of it.  It was great to be able to focus on weaving and natural dyeing for 3 weeks without interruption and a really interesting opportunity to find out more about what it´s like to work "in a craft" for a living – Textile Assistant, 2008
Summary   Now in its sixth year, this intensive, residential weave course in Spain, created for beginners with a serious interest in learning to weave and use natural dyes.  The intensive course consists of learning-on-the-job work experience in the context of a professional hand-weaving studio, with one-to-one tuition in weaving and dyeing.  Weaving apprentices help out with different everyday work in the studio, and the combination of assistance work in the studio and one-to-one tuition means that by the end of the 3 weeks they will have learned how to:
Prepare and weave on a 4/8 shaft loom independently-  understand weaving drafts and draw-downs – weave simple fabrics – design and weave a textile project from scratch including sampling – prepare yarns for natural dyeing and use some natural dyes.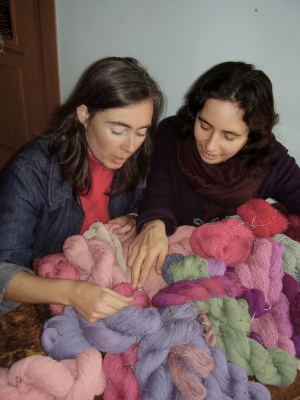 Work experience may include anything and everything from:  setting up looms, weaving simple objects for sale, batch dyeing and yarn preparation (skein making), administrative work, packaging up orders, labelling work for sale, inventory work, standard workshop cleaning (weekly).
Where is the Weaving Assistantship held?
In Anna Champeney Estudio Textil, in Galicia, northwest Spain.  The studio is a fully-restored stone barn, set in the idyllic rural village setting, surrounded by vineyards and mountains, some 40 minutes from the city of Ourense (Orense) and 2 hours from Santiago de Compostela.
Numbers of weaving apprentices:  A maximum of 2 textile assistants are taken on once or twice a year, in spring and autumn. 
What does the assistantship lead to?  Most of the past assistants have gone on to purchase their own looms and work independently, either working for enjoyment at home and even selling their own work to their own designs.  
Am I suited to the Weaving Assistantship?  You don´t need to  have any previous weaving or dyeing experience, just a willingness to learn a craft which requires a fair amount of discipline and patience (or willingness to learn!).  The assistantship does require the ability to work independently and with attention to detail.  Unlike some other crafts loom weaving requires a certain rigorousness from the beginning – in the loom preparation, although this is not actually as difficult as some would like to believe, and Anna carefully guides all assistants through the steps.  As the assistantship is held in the Anna Champeney Estudio Textil in Cristosende in a village setting in rural Spain it helps if you enjoy being in nature, able to enjoy your own company to a certain extent, and enjoy living in a traditional village context.  The countryside is stunning – with vineyards,  mountains and sweet chestnut groves, with wonderful wildlife – but the opportunities for getting out and about are limited - there is one village bar/restaurant – but limited possibilities for travelling to the nearest city (Ourense).  So if you need urban-estyle entertainments or need to be around lots of people, maybe the Textile Apprenticeship at the studio is not for you.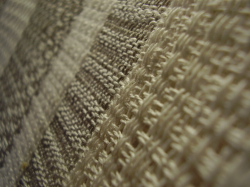 Cost:  1350 euros (35% deposit payable at time of reservation, 65% payable in euros at the start of the assistantship).  This includes self-catering accommodation at Casa dos Artesans, about 30 metres from the textile studio.
How do I apply?  In writing – please send an A4 sheet explaining any previous experience, other craft hobbies, and why you are interested in the assistantship.  Either by email – lluisyanna@terra.es or by post – Anna Champeney Estudio Textil, Cristosende 78, 32765 A Teixeira, Ourense, Galicia, Spain.
How do I travel to the Textile Studio:  Ryanair fly London Stanstead – Santiago de Compostela.  Other nearby airports include Madrid, Coruña and Porto.  From the airports there are coach services to Ourense city or Monforte de Lemos from Spanish airports (Santiago de Compostela, Coruña, Vigo, Oporto, Madrid) or by international coach to Ourense.   We can collect you from Ourense / Monforte de Lemos.
Other Comments from past Textile Assistants:
 "Most places I looked at are aimed at giving people the experience of weaving itself.  You offer the opportunity to do this alongside being able to help out and get much more involved in the details of running a weaving studio" – Textile Assistant, 2008

"Galicia is maybe not the easiest place to get to but the minute I saw your website it just looked right" – Textile Assistant, 2009
Interested in other tuition options?  Click here for options of 1 day upwards