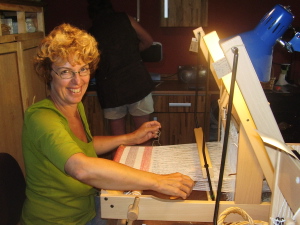 This blog post is a plug for the special 5-day intensive weave course taught in Spanish (suitable for intermediate-level and above Spanish speakers), at the Textile Studio in Cristosende, A Teixeira, in north Spain, in July 2010.   You won´t be offered any Spanish classes during the course (although Anna will always translate when necessary) but you will be immersed in a Spanish-speaking environment and surrounded by the Spanish language… What is more, this holiday craft option in Spain will enable you to learn the creative art of weaving textiles on a loom by hand!    You´ll be very proud of your first hand-woven textile – woven "in Spanish"!
About the studio and venue: Anna Champeney specialises in weaving traditional Galician Spanish folk textiles and designing her own range of limited-edition textile designs for scarves and interiors.  Together with her partner, Lluis Grau, Anna has been offering Spanish craft holidays and self-catering cottage holidays since 2004.
About loom weaving: Many people who watched Monty Don´s Mastercrafts series on weaving earlier this year in  March 2010 on television in the UK will have been fascinated and inspired by the fabrics woven by the 3 contestants over a 6 week period!  The art of weaving cloth by hand from the beginning is a magical and very satisfying experience.  Unlike some "hobby crafts" loom weaving is not a craft that offers easy and quick satisfaction (the setting up of the loom requires patience and care) but it is a craft which can become addictive once the basics have been mastered and offers infinite creative possibilities.  The rythmic experience of weaving is immensely satisfying and also relaxing!    As opposed to knitting, weaving requries two sets of threads – the warp (set up under tension on the loom) and the weft (which is wound onto a bobbin and interwoven through the warp on a shuttle).   The first part of learning to weave involves setting up the warp threads on the loom and the second part is the actual weaving in the weft threads on a shuttle.  The loom itself is what enables weavers to weave many different patterns and even complete beginners will be able to weave at least 3 different patterns.
About the Ribeira Sacra in Galicia, Spain: The Ribeira Sacra, where the Textile Studio is situated, is a  rural area of outstanding natural beauty in Galicia, north Spain, which centres on the River Sil canyon, with its steep terraces of vineyards (D.O. Ribeira Sacra).  The climate is not as hot as in southern Spain and the area retains its green-ness even in the heat of summer, with its forests of sweet chestnuts.
Loom weaving course details:
Dates:  4 – 8 July 2010
Location: Anna Champeney Estudio Textil, Cristosende 76-78, A Teixeira (Ribeira Sacra), Ourense, Galicia, Spain
Course Outline:
Loom preparation (each participant has the exclusive use of a 4 or 8 shaft Louet table loom during the course and there are special discounts to pupils who wish to purchase a loom after the course)
Weave samples – different patterns, colours and yarns
Creative Weaving I: The Design Process, Experimentation, Obervation and Analysis
Creative Weaving II:  Understanding pattern drafts and project sheets
Weave final project piece (fabric for cushion cover, linen towel, bathroom, wall-piece or kitchen bag ….)
Cost: (includes materials and teas/coffees, excludes accommodation and travel): 390€ (approximately 351 pounds stirling (correct at the time of writing))
Accommodation options: 5 accommodation places in individual / shared rooms are available at Casa dos Artesans (awarded the Spanish mact quality symbol), some 30 metres from the Textile Studio.  Shared rooms (2 people) – 30€ per night / Individual rooms – 45€ per night.  The Casa Grande de Cristosende (rural hotel and restaurant in the same village as the Textile studio) has rooms from approximately 65€ per night.  Further information about other accommodation options on request.
How To Get Here: Fly to Santiago de Compostela (flights available from Stanstead or Heathrow) and hire a car or travel on by direct coach service to Ourense city (we facilitate a time-table when you book on the course) from where a transfer is available to the Textile Studio.  Alternatively, fly to Madrid and take the train / coach to Ourense  or Monforte de Lemos (where a transfer service to the Textile Studio is available).
You may also be interested in the following options- Self-catering cottage holidays in the Ribeira Sacra for 2 – 5 people (additional craft activities available in Spanish or English) / 3-week Textile Assistantship in the Ribeira Sacra / Basketry and Weaving Tuition in the Ribeira Sacra / Otros cursos de artesanía en español
This content is available in:

Español