It´s July in the Ribeira Sacra and hand-weaver and designer, Anna Champeney, and basketmaker, Lluis Grau, are working hard in order to make their textile and basketry studios ready to open to the public during August, when they have their their summer selling exhibition and open studios.  Their places of work are situated in beautifully-restored traditional stone buildings in the picturesque village of Cristosende which overlooks the famous River Sil Canyon itself.  Here´s a sneak preview of what is to come when they finally open for the month of August.
July – As well as running a weaving course from the studio from the 4th – 8th July Anna, the hand-weaver at AC Textile Studio, is busy weaving up 55m of linen yarn on the loom– making large-size linen farm sacks with colourful stripes and a personalised cushion commission.  Do the sacks actually have a modern-day use or are they just decorative reminders of the past?  
"The sacks are nice to look at and hang up but they are actually very practrical – they are machine-washable for example – and have many modern-day uses as well as constituting part of the region´s local craft heritage.  At home I use one of the large sacks as a bread bag but I also love using it for picnics and some clients of mine have even converted them into cushions!  I also make smaller versions which can be used as bathroom bags, as handbags, for garden seeds, just about anything really – it´s not so different today as in the past – the sacks have always been multi-purpose".   
What is the history behind the traditional rustic linen farm sacks in Galicia?
I have researched traditional folk textiles in Galicia since the early 2000s and the rustic linen sacks were certainly a core part of the traditional weaver´s repertoire in my area of mountainous northwest Spain – Ourense province.  Similar, rougher sacks, were made in neighbouring Asturias, but I find the Galician sacks finer.  Some local people still use the old sacks in my area but unfortunately  I was never able to meet any of the old weavers as they died years ago.  The fact that the old weavers´ sacks are still in use is a real tribute to the weavers and proof, if any was needed, of their robustness.  The traditional sacks were originally larger than the modern versions woven at the Textile Studio, as they were used to take grain to the water mills and for large quantities of sweet chestnuts which formed the staple diet of many local people not that long ago.  But people don´t need such large sacks today for home use so, unless I receive a commission for a full-size sack, I weaver them in smaller sizes.  The stripey versions of the sacks were locally called "sacos róxos" (red sacks), something of a mystery, given the fact that they could be black, brown, red or blue.  But they were always stripey and we weave the sacks using the same kinds of stripes as before". 
These traditional Galician sacks some of Anna´s favourite stock items and she finds them very satisfying to weave.  The colours are from natural dyes extracted from plants in the workshop itself – some of which are from plants grown in the dye workshop garden – you can´t get much more local than that!  The end of June is when camomila tinctoria or dyer´s chamomile can be harvested and Anna has a large flat basket full of drying flower-heads in the studio which she will later use to dye woollen sack yarn. 
 Can visitors see the natural dyeing process in the workshop during a visit? 
"Well we do offer guided tours for the public both during our opening hours in August and during the rest of the year (when telephone booking is required) which means visitors can learn more about the way that hand-made textiles and baskets are made here and see whatever we are working on at the time.  I usually do large-scale batch dyeing about twice a year, a process which can take several weeks so yes, there is a chance of seeing either the yarns being dyed or some of the plants I use and colours that I obtain".  
"Craft" is a bit of a confusing word today as it covers a huge range of things from cheap, imported objects which have been mass-produced to exclusive hand-made objects which are unique and command a high value.  What kind of craft is on offer at the Cristosende craft workshops? 
At AC Estudio Textil and Lluis´ basketry workshop we offer craft work which has been authentically hand-made, locally, but us, and made from natural materials.  Local, traditional craft is amongst the most authentic as it is often tied to the history of a particular area.  Despite being more expensive than some objects sold as craft in shops we feel that our work offers real value-for-money as it is not only genuine but well-crafted – it´s the "real thing" not an imitation or a fake version.  Some of the techniques we use are over 1000 years old and the methods we use are all completely manual.  Ironically, although some of the objects we make today might have been commonplace about 50 or 100 years ago today they are rare – and in some cases we are the only makers in Spain making particular types of basket or woven textile for sale.  Our clients come not only from Galicia but also from Madrid, Barcelona and abroad.  Some clients are collectors, many are visitors to the area – but in general they are all searching for something unusual, authentic and different to what is normally on sale.  We select traditional designs and techniques which we find beautiful ourselves and which can also find a use in modern life.  Our textiles and baskets are often used, not just looked at on a shelf.  At the textile studio we also produce our own label textiles – with designs which go beyond traditional designs and techniques and sometimes use more complex techniques and more creative designs.  The own-label designs include limited editions of scarves and cushions and one-off pieces as well as textile art pieces.  Our prices range from just 9.50€ for a mini-textile to 26.50€ for a strong mushroom basket, to over 500€ for a decorative framed piece; there is something for everyone.
What´s new in the Cristosende craft workshops for 2010?  We always try to introduce new ranges or designs in our August open workshops.  New for 2010 are some lovely linen babycapes  – ideal for the heat of summer (linen is cooler and more absorbent than cotton).  They are quite different to industrial babycapes and can be used for formal and informal occasions, and as both towels and summer blankets.  In the basket range we hope to have some of the very special traditional baskets which are traditional in the Los Ancares area of Galicia, which are not only rare but very beautiful.  We will have some old favorites on display too – including mushroom baskets and potato-peeling baskets.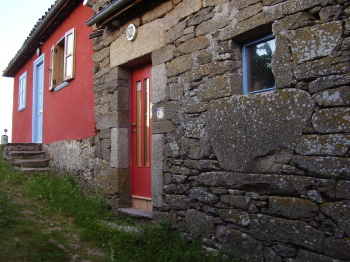 Public Opening Hours
August 2010 – 10.30am – 1.30pm / 6 – 8.30pm (every day except Mondays).  Guided Visits on requestduring opening hours – 2,50€ per adult
Rest of the year – the craft workshops are closed to the public but you can book a guided tour or visit by appointment – T.669 600 620.
This content is available in:

Español