Ribeira Sacra handwoven textile and basketry workshops are worth a visit so after you have "done" the boat trip and visited the monasteries, follow our route around the picturesque village of Cristosende for a truly different experience of the Ribeira Sacra.  A visit to this scenic hamlet in August not only means you can visit the open village craft studios to see and buy hand-made textiles and rare baskets and have a guided visit.  In the same village you can also visit the family-run bodega, go for a shady stroll with some stunning scenery (print out the information below) and then finish up in the Cristosende manor house bar for a drink, ice-cream or even a meal (reserve beforehand).  There are few such pretty villages in the locality of such a small size which offer you so many possibilities.   Let us know how you get on by adding a comment! Map of How to Get to Cristosende
About Cristosende (15 minutes from Castro Caldelas, overlooking the River Sil)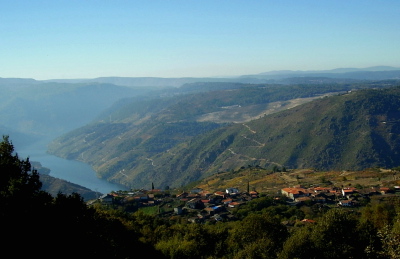 Cristosende is arguably one of the prettiest in the Ribeira Sacra (Ourense), with many tiny stone bodegas still used by local people to make wine and stunning views directly over the River Sil Canyon with its steeply-terraced, hand-worked, vineyards which produce the local mencia and godello wines.  The village is not an artificial tourist village, however, but a real working village, with all the small businesses run by local families.  It experiences a brief buzz during the annual fiestas, at the beginning of August, and for the rest of the year it is a haven of peace and quiet, with fewer than 40 all-year round inhabitants.
Suggestions for things to do in Cristosende in the Riberia Sacra this August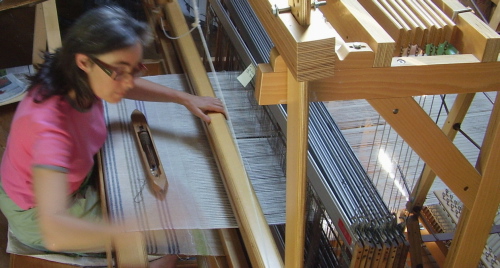 Activity 1 – Visit to the only weaving and basketry workshops in the whole of the Ribeira Sacra – Anna Champeney Textile Studio and Lluis Grau Basketry 
Opening Hours –1 – 31 August 2010 – Tuesday – Sunday – 10.30 – 1.30pm / 6.00 – 8.30pm.
Free access to shop and exhibition areas. 

Guided visits during opening hours (up to 45 minutes before closing time) on request.  (Cost: 2,5€ per individual, group tarifs according to numbers)
Rest of the Year – closed to the public except for guided tours / visits by appointment (T. +34 669 600 620)
Products and Description:
Unusual hand-woven traditional designs and techniques and range of own-label products.
Rare Spanish baskets with local designs from the Ribeira Sacra, Galicia and the north of Spain.
Opportunity for Guided Workshop Tours (August)
About Weaving and Basket Making in the Ribeira Sacra – Weaving and basketry were both traditional Spanish crafts that were part of everyday life in the Ribeira Sacra in Galicia just 50 years ago, with hundreds of weavers and basketmakers at work.  Anna Champeney and Lluis Grau keep the tradicions alive and develop them further in their small but beautifully-restored craft workshops.  The workshops have information panels and offer guided tours on request. More about Anna Champeney Textile Studio in Cristosende, About Lluis Grau Basketmaker
Activity 2 – Walking route in and around Cristosende (A Teixeira) (about 30 minutes)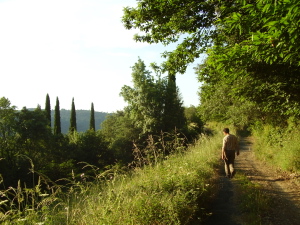 A relaxing stroll which is a circular route along peaceful country lanes, some of which is through beautifully shady sweet chestnut groves.  Print this route out as it is not signposted.  It is very easy to follow and has wonderful views over the village, the vineyards and the River Sil itself.  Walking is, perhaps, the best way to experience the Ribeira Sacra, and a refreshing change to car-based tourism.
Starting point: Communal public wash-place (locals still wash clothes and rugs in this roofed water-tank) in the centre of the village (a roofed water tank near the signpost to the Anna Champeney Textile Workshop).   You can drink the spring water from the more modern of two water fountains here.
Walk out of the village along the country lane, past the village recycling point, towards A Teixeira.    Pretty views of Cristosende.

Shortly after the road curves to the left and begins to climb you take a steep asphalted country lane on the right.  This takes you by the hamlet of O Barrio and past Casa Pital with its majestic cypress trees. 

Continue walking straight on through shady sweet chestnut groves until you come to a –T-junction, where you will see a village spring set into a rock on the right.  This is drinkable. 

Then turn right, down hairpin bends leading back into Cristosende. Enjoy the wonderful views, this time over the River Sil Canyon itself. 

This takes you back into the village of Cristosende.  Take the first right turn into the village to pass by the village winery, Viña Pederneira.  Continue on down through the village to the wash-place.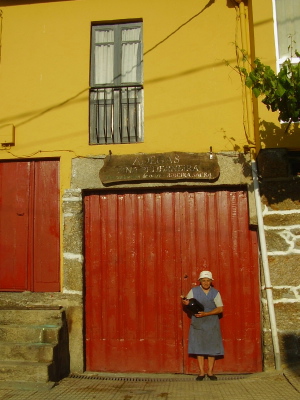 Activity 3: Viña Pederneira (D.O. Ribeira Sacra) – The village winery
Opening hours – whenever a  member of the family is at home (although avoid siesta time!), rather than working in the vineyards.  If the bodega door is not open then don´t be afraid to shout "Hola" loudly.
Products: Gift packs of 3 bottles of mencia and godello wine.  Wine boxes also available.  Ask about local aguardiente (the delicious local spirit made from distilling grapeskins,  flavoured with coffee or herbs)
Description: The small family-run winery or bodega in Cristosende makes wine exclusively from its own mencia and godello grapes.  Although small bodegas like Viña Perderneira don´t have the public profile of the larger, more commercial wineries you will see publicised in tourist brochures and in large road signs, they represent the truly authentic face of wine-making tradition of the Ribeira Sacra.  Again, unlike some of the other wineries which apparently buy up grapes from other regions, all the wine from Viña Perderneira has been made from local vineyards in and around Crisotsende.
Activity 4 – Eating and Drinking in Cristosende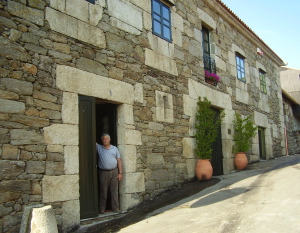 After your visit to the craft workshops you can enjoy a drink or a meal (with prior reservation – (T. +34 988 20 75 29) at the attractive village manor house, the Casa Grande.  The walled courtyard is refreshingly cool in summer.  Another alternative is to bring your own picnic and sit out at one of the village merenderos (picnic areas), some of which have drinking fountains.  Please remember to take your rubbish with you and leave the marble tables clean (Cristosende villagers like to play cards there on summer afternoons).

 Staying in Cristosende – Tourist Accommodation in Cristosende
The village has several options for staying longer including craft holidays, should you wish to return another time:
Casa dos Artesans holiday cottage (shown in photo) is ideal if you are looking for privacy, value-for-money, and space of your own.  Advance bookings only. 2 spacious bedrooms.  Sleeps 2 – 5 people.  (585€ per week + 13.50€ for extra single bed for 5th person). (T. +34 669 600 620) Casa dos Artesans Holiday Cottage
Craft Holidays – Anna Champeney, textile weaver, and Lluis Grau, basket weaver, offer residential craft holidays and courses of up to 3 weeks duration so you can combine a stay in the Ribeira Sacra with learning how to make your own hand-woven textile or basket.
The Casa Grande is the village manor house and offers spacious double rooms including one with disabled access, with breakfast and meals available at the restaurant (meals reserved in advance – (T. +34 988 20 75 29)
Village Life in Cristosende:  Background
As you can see, Cristosende is a dynamic little village (especially given its tiny population of fewer than 40 all-year round inhabitants), in having a number of local, family-run businesses – craft, wine and tourist accommodation. Many villagers make their own wine and cultivate their own vegetable gardens and thanks to them and the small businesses, other newcomers are now being attracted to the village both to live and to spend holidays.  As a result quite a number of village houses and bodegas have been sympathetically-restored over the last 8 years, leaving the structure of the original buildings untouched, with the authentic local stone walls visible, traditional roof tiles and painted wooden windows and balconies.  This in itself is making Cristosende an ever-more attractive village, both to live in and to visit.  We hope you enjoy your visit to Cristosende this August.  Please ensure that Cristosende villagers continue to enjoy having visitors in future – Leave any rubbish in the bins provided , keep your dogs on leads, and please don´t enter private gardens, vineyards and buildings.

Around Cristosende – Other Places of Interest
Castro Caldelas – with its historic castle and shops and bars (15 minutes by car) and Centro Comarcal (oppisite the castle) Tourist Information Office
Santa Cristina Monastery (Parada do Sil)– One of the Romanesque monasteries which have given the area its name, Ribeira Sacra (Sacred Riverside) – (30 minutes by car)
Vilariñofrío Roman Bridge (Paraa do Sil) – (about 10 – 15 minutes by car)
Niñodaguia Pottery – Cerámica Agustín – One of the last traditional potters.  The honey-coloured pottery here is not to be missed. (25 minutes by car situated on the main road to between Castro Caldelas and Ourense)
Monforte de Lemos – the main town of the Ribeira Sacra (35 minutes by car)
Ourense City – provincial capital with its old quarter full of tapas bars, and hot springs
Gundivós Pottery – The unusual black pottery of the region probably has very ancient origins and you won´t see anything like it anwhere else.    There are two potteries making Gundivós ceramics, both near Doade (Lugo province).  (About 50 minutes by car)
Allariz – superbly-restored historic town (1 hour by car) with  a range of craft shops, local product shops and Galician designer clothes shops
This content is available in:

Español