Here  you can see my limited edition of mini stripey Herb Sacks with locally-grown lemon verbena (for lovely lemony herbal tisanes) for sale as christmas stocking fillers …   or fun presents for ecologically-minded friends or family members as well as  textile lovers! 
The sacks are inspired by the traditional hand-woven Spanish farm versions – which some of my neighbours still use in fact.   Until the 1950s or 1960s there were many hand-weavers in my area of north Spain (Galicia) and sacks were part of their everyday repertoire.  But now I´m the only hand-weaver in the region now – and I´m  not even Spanish in origin – but from Norfolk (UK)! 
In the past all the linen was home-grown and spindle-spun – just imagine the hours of work involved in that!  Now, to make the sacks as authentic as possible I source a special rustic linen which is un-treated with bleaching or dyeing chemicals – it still smells of plant in fact and has bits of woody  flax stem embedded in it.   I´m lucky to have this yarn as I don´t think it´s made any more – I bought up old stock.
The traditional, full-sized stripey sacks were used for anything and everything – from transporting rye and sweet chestnuts – my area is full of ancient groves of sweet chestnuts.   Once  you´ve finished the lemon verbena herb you can use the sacks for lots of other uses – we have one in our bathroom for our toothbrushes and toothpaste instead of a yucky toothpaste glass!) but they are equally good for clothes pegs, herbs and spices, nicknacks, letters … 
Each sack is differently coloured with natural dyes, many of which I grow in my garden or are from local plants which are super-abundant and which  I can collect sustainably – such as dock leaf root, onion and walnut, gorse, I also use logwood with copper for rich deep blacks, indigo for blues. 
Note (June 2010)  –  All herb sacks featured here are SOLD but more will be available by summer 2010 – in colourways shown below and in 2 sizes – small (as shown here) and large (approx. 65cm x 42 cm)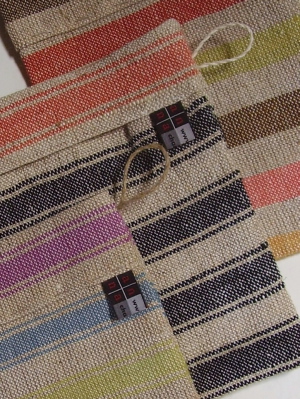 Herb Sack Information:
Size: 18 x 22cm (approx.)

75% linen, 25% wool with natural dyes

Tisane – Add 1.5 tsp of herb to 1 cup of boiling water for a relaxing cup of herbal tisane

Every sack is different – with different colourways and traditional stripe designs – because every one is individually hand-woven from Anna Champeney Estudio Textil´s ever-changing stock of natural dyes.

Machine washable on wool cycle 30ºC.  Gentle or no spin cycle.  Iron when lightly damp

Price: 25 pounds + 2.50 pounds p&p (for UK & rest of Europe) 
To buy contact: 

lluisyanna@terra.es
This content is available in:

Español