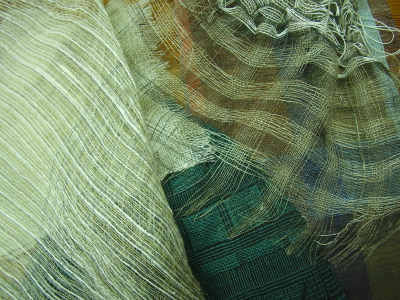 The five day intensive course with Danish master weaver Lotte Dalgaard (19 – 23 September 2010, held in Anna Champeney Textile Studio in Galicia, Spain) has just come to an end and I, together with my 6 Spanish colleagues (all professional weavers) are now able to start to digest the huge amount of information that Lotte generously shared with us.  Lotte has build up a huge amount of technical expertise and creative energy during the 12 years that she has focused on working with what she calls active yarns.  These fine supertwisted yarns or elastic yarns work with more stable yarns to form fantastic and high quality pleated and crinkled texiles.  Lotte has used these magical principles of textile design which are often termed "collapse weave" – to design beautiful scarves and exclusive one-off garments which are sold either in the best Danish, and Swedish craft fairs or via an exclusive craft shop in north Copenhagen.
During the course students set up 7 looms with some of Lotte´s own designs for 4 and 6 shafts in both single and double weave.  Lotte taught the Danish back-to-front technique for setting up the looms using a raddle (quite new for those used to the so-called American technique which is front-to-back).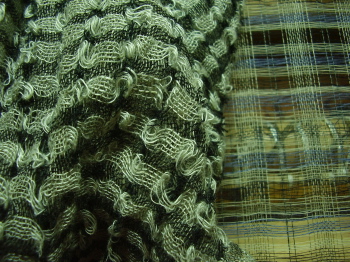 At first, some course students were not convinced by the Danish method and felt that the raddle technique was laborious and time-consuming compared to the more familiar front-to-back method.  But during the course they realized that, although this method is suitable for some kinds of projects, it is really not a suitable warping technique for using very fine, sticky or – in this case – super twisted or elastic yarns.  The front-to-back warping method will result in many broken warp threads whereas the Danish technique which uses a raddle is far gentler on the warp threads and enables the warp to be transferred more easily under tension.
With so much weaving experience behind her Lotte was able to pass on all sorts of very handy tips – from how to wind a perfect warp on a warping mill with the difficult high-twist threads which threaten to twizzle together to form corkscrew twists, to a quick method for sleying the raddle (with the reed placed horizontally infront of the shafts, instead of in its normal vertical position).  We also learned a simple and effective way to strengthen fine warp threads on the loom – brushing a solution of water boiled with linseed (1 teaspoon of flax seed and 2 small cups of water).  We learned that the gentlest way to to beat a pick of weaving into place with a delicate, sticky or very fine warp is to beat twice  – firstly on an open shed and then on a closed shed, again to avoid breakages in the warp.  We also had the chance to weave double weave cloth with intersections between layers as well as a second project with stitching points to unite both layers.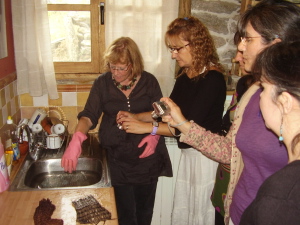 Of course the most dramatic part of the course was the wet finishing – washing in very hot water of 60ºC or more (to remove the steam finish of some of the yarns) and watching how the textiles magically shrank and formed pleats, folds and crinkles in the water, sometimes in a matter of seconds.  But this was also the easy part and we realized that the real work involved is in the preparation of the warp and the loom.  You will note that Lotte avoids the term collapse weave and prefers to talk of "magical materials" to create pleated and crinkled fabrics.  During the course had a chance to handle allsorts of amazing samples from her fabric collection and – what a privilege – to try on some of her exclusive garments which are made with frilled collars or waists or scalloped edges which are all formed as an integral part of the cloth itself, rather than by cutting and joining separate pieces of cloth.
From a personal viewpoint, the course with Lotte removed all fears I had previously of using fine linen singles as warp (17/1 nm for example) as well as combining fine linen with hightwisted wool in the warp which are rightly regarded as difficult to work with.  And of course, the fabulous crinkled fabrics which result are of such a high quality and so unusual, that I feel very excited about the prospect of incorporating this new knowledge to develop new designs myself. It was also good to know that the Louet table looms I use for teaching in the Textile Studio could cope with the fine yarns and warp densities of about 12 ends per cm (30 epi).
Another really positive outcome of the course was the result of being able to meet other professional weavers in Spain.  As there is no national association or weavers´ guild, and virtually no national conferences or summer schools, it is very rare to meet colleagues in Spain so it was a really rich experience to be able to get to know other weavers and exchange experiences and pool our knowledge and resources.  Hand-weaving at a professional level, as in all European countries today, is experiencing many difficulties.
It´s not widely known that hand-woven textiles today can only really compete with industrial textiles at the very highest end – which means weaving very special, luxurious, one-off accessories or garments aimed at the most exclusive clients who are looking for something really special.  This means that most professional hand-weavers struggle at every level – to design work of a high enough standard to compete with the best of industrial textile design, to buy yarns of sufficient quality and variety which are rarely available to hand-weavers in small enough quantities (we can´t buy the minimum order of 1000s of kilos of yarn that most yarn companies impose), and then to actually connect with the elusive clients who are looking for really distinctive, high quality textiles.  As such, professional hand-weavers need to be not only great designers and excellent technicians and weavers, but also experienced marketing and sales executives and have experience in packaging and presentation.  Courses such as Lotte´s help to raise standards and also to help us to take more risks – make textiles which are more complex, more daring, more distinctive, more time-consuming to make – because at the end of the day, these are the items which keep their value and have a market (even if it is difficult to access).  Making cheap, quick work or compromising on the quality of our materials may be tempting – but at the end of the day it is a grave mistake, lowering the prestige of the sector generally and not selling well anyway!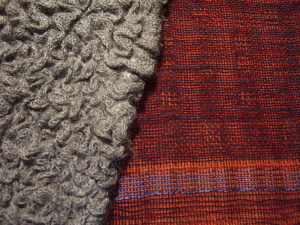 It just remains for me to say thank you Lotte, and thank you to all my other co-students, for such a fantastic and stimulating week.  And of course to the Galician Craft and Design Foundation who sponsored the coruse.  And I hope that as a result, over the winter, I will be able to incorporate what I have learned into my own work, spend some weeks in developing new designs, and be able to offer my clients some really new, unusual, and original textiles from the studio in 2011!
Mushroom Basket Course in September with Lluis Grau, specialist Spanish basketmaker – Well done to all those who made beautiful mushroom-picking baskets in Lluis´ course earlier in September.  All we need now is rain so the mushrooms can grow but so far the weather is still fine, sunny and dry here in Galicia,  north Spain.  More information about our craft courses.
Behind the scenes with Casa y Campo magazine
Casa y Campo is the Spanish equivalent of Country Living magazine in the UK and in September 2010 Monica Corredera, one of the magazine´s feature writers and the talented photographer, German Saíz, spent a couple of days with us in the craft studios.  We hope that the two features about our baskets and textiles will be out later this year.  Here you can see a little of the some of the "behind-the-scenes" work which goes into the quality articles produced for this magazine, which is a leader in Spain for promoting a country style in homes and interiors, as well as promoting Spanish designers and craftspeople living in rural areas.
AND COMING UP SOON…
Basket Fair in Salt, Girona  2 – 3 October 2010.
Every year Lluis Grau, my partner, and I have a stall at this international basketmaking fair held in the suburb of Salt, in Girona.  So make a note in your diary of this, one of the largest and most dynamic basketmaking fairs in Spain, which is always held in the first weekend of October.  Even if you can´t make it this year you can come in 2011.  There are budget flights between the attractive city of Girona and the UK from Stanstead airport (and possibly from other airports although I haven´t checked).
Complete weave course in October (in Spanish) – There is still one place available on the one-week complete weave course here the textile studio between the 11 – 15 October so if you are a complete beginner or have some experience and want to try a new project from scratch do contact me.  There are also places on the one-day Calculations for Weavers course on the 10th of October.
Traditional Galician hand-made linen buttons. Monica Rivera, who specializes in making traditional textiles for folk dance groups here in Galicia, north Spain, was a recent weave and natural dyeing pupil of mine, but she also taught me how to make the charming hand-made linen buttons that were used to embellish traditional hand-woven and hand-sewn linen shirts.  In a future blog post I´ll show you how she makes these buttons, and give you more information about Monica´s craft shop in Santiago de Compostela.
Fine Linen Yarns by Post – Next week I´m visiting some of my yarn suppliers in Catalunya to order more linen yarn and am hoping to be able to buy some unusually fine water retted linen singles yarn of very high quality, which are either 40/1 or 44/1 nm.  This yarn was originally made for making the highest quality of linen handkerchiefs in Spain but is no longer made, as the Spanish textile industry no longer makes this kind of textile.  If you would like to try some of this yarn contact me for more information about price.  It is available in bobbins of about 175g and a single bobbin will probably last for years.  I have tried it as weft in a collapse weave scarf sample and it worked beautifully, giving a very fine result.  Contact me for more information about buying this yarn.
This content is available in:

Español