SHOPPING FOR LINEN WEAVING YARNS
Here at the AC Estudio Textil in north Spain we specialise in weaving with natural linen, and as such, we have quite a selection of un-dyed yarns from a very fine 100nm through to a very natural rustic sack linen.  We can send these yarns out to you by post and accept payment in euros and in pounds sterling by cheque or bank transfer (we hope to accept payment by Paypal soon).
Because we use these yarns ourselves, both for our limited-edition textiles and in our weave courses and holiday tuition, we feel confident that if we like using the yarns you will too!
We cannot guarantee to always have the same yarns in stock, however, to please ensure you order enough of any one yarn to complete your textile project.
Sample cards – (UK) Please send a cheque for 5.90 pounds sterling and a self-addressed A4 envelope to Anna Champeney Estudio Textil, Cristosende 78, 32765 A Teixeira, Ourense, Galicia, requesting a linen sample card which we can make up by hand and send out to you. Other countries – please contact us about payment methods.
Metric count system: We use the nm or metric count system for yarns which means the higher the number the finer the yarn.  The first number refers to the number of metres of yarn in 1000g of the yarn – as a singles yarn.  The second number refers to the the ply – 2 signifies 2-ply and 1 refers to a singles yarn.  e.g. 10/1 = 10,000 m/k.  10/2 = 5,000 m/k.
Suggested warp setts: Only sampling can really confirm which is the correct warp sett for a particular project.  However, as a general recommendation, a 12/2 nm yarn can be sett for plainweave at 7 ends per cm and a 26/2 nm can be sett at 11 or 12 hpc.
WHITE LINEN
Please note this is 1/8 white linen – which means it is a creamy white not a completely white white.  Each thickness of yarn varies slightly in tone.  Please ensure you order enough yarn for your weaving project as slight colour variations can occur from batch to batch.
39/2 white  (on order)
26/2 white (on order
12/2 white
13/2 white
12/1 white
GREY LINEN
12/2 grey
12/1 grey
15/2 grey
NATURAL LINEN (a warm beige rather than a true grey)
Rustic linen singles (possibly a number 4

6/1 natural linen

100/1 natural
Comments
"WOW! So beautiful and So FINE!  Can´t wait to work with that! " – comment by email from Mayumi about the 100/1 linen yarn    and / "I can't wait to plan a project …  The 100NM linen reminds me of spider-silk from a cob web, it's so fine!" – comment by email from Beth 


OTHER YARNS CURRENTLY AVAILABLE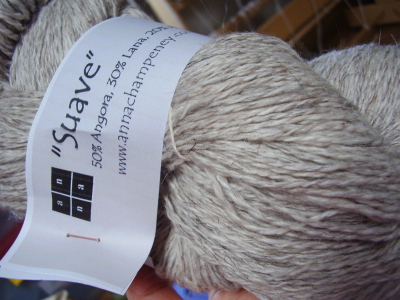 "Suave" yarn – A wonderfully soft natural grey 50% angora, 30% wool, 20% alpaca 2/9 nm available as skeins of 125g. Delicate hand-wash in cold water required for this as otherwise you run the risk of felting this yarn!   With care, however, we have both mordanted and dyed this yarn successfully with natural dyes.  The studio has used this as warp and weft for beautiful scarves and  it can also be used in knitting.  Unfortunately we cannot advise you further (we weave but we don´t knit!).
We also stock 50% silk, 50% wool 10/1 available on cones (un-dyed)
Visit AC Textile Studio in 2011 – Don´t forget that you can always come and try out the yarns and buy our hand-woven linen texiles direct from AC Textile Studio.  The studio is situated in a picturesque village in Galicia, north Spain. We can book you self-catering accommodation in Casa dos Artesans holiday cottage, just a short stroll away from the studio.  The cost of cottage rental varies from 61 pounds to 86 pounds per night depending on the length of the rental (minimum stay – 2 nights – cheap tariff – 2 weeks).  Combine your stay with a weave retreat (we can rent you a loom) or simply relax and unwind in some stunning scenery.  Please book early, however, because availability through 2011 is  limited.
Weaving with linen warp at the textile studio
This content is available in:

Español