textilesnaturales visited Lanzarote in the Canary Islands in November 2010  to find out about the fascinating story of cochineal production
by Anna Champeney Estudio Textil (Spanish weave and dyeing studio in north Spain)
Arrival in Lanzarote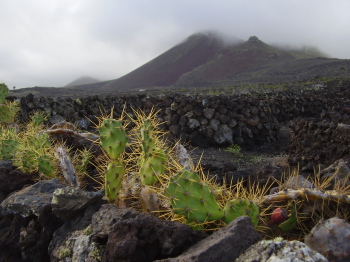 I arrive in Lanzarote in the afternoon by plane.  The clear skies afford wonderfully clear views of the spectacular island landscape.  I can see small, perfectly-formed volcanoes with their tell-tale craters, dark volcanic ash and lava.  It is a very striking landscape.
Wide expanses of land are covered with the geometric patterns of stone walls and every now and I can see villages with their clusters of white houses and apartments.
It´s November and much of Britain and northern and central Spain is covered with snow.  Lanzarote, however, has a sub-tropical climate which means that when I arrive at my apartment I can change out of my winter clothes, exchanging warm socks and trousers for sandals, a cotton skirt and t-shirt.    Even when there are strong winds and rain on Lanzarote – quite typical at this time of year – it is never cold and temperatures on the island rarely go below 8ºC.
Lanzarote´s climate has inevitably made it into a tourist island oer the past few decades but I am here to find out more about the fascinating story of cochineal – a small and humble-looking insect which has given us one of the richest red and purple dyes in the whole world and shaped the history and economy of Spain and the Canary Islands.
Lanzarote – past and present
Cochineal is just one part of Lanzarote´s history and economy and right now, all the locals are full of stories of recession, with tourism and industry, the two interlinked mainstays of the island economy, taking a real beating.   In fact, I can see a lot of tourists here in the island and the restaurants in the sleepy seaside village where I am staying are still fairly full every day, but then I can´t compare tourism now with tourism during the twenty or so boom years, when local people enjoying abnormally high incomes and a standard of living which is almost unimaginable now, in 2010.  The signs of this boom are still visible – for example I am amazed by the number of 4x4s I can see on the roads.  However, in the larger scheme of things, the 20C tourist boom represents just a blip in Lanzarote´s overall history and part of its constantly changing fortunes.  Boom and bust and economic highs and lows are in fact nothing new on Lanzarote.  For traditionally the island has been far more dependent on farming, agriculture and the exportation of its natural resources.  Even then, history shows us that when these were exhausted or the demand for them suddenly dropped, Lanzarote residents had to adapt to new and very different situations.
Cochineal farming on Lanzarote
The production of cochineal, in the 19th and 20th centuries, is one example, and was, for a time, one of the most important industries on the island.  Juan Cazorla, of the Milana Asociation, which aims to promote a better understanding and appreciation of cochineal farming on Lanzarote, meets me off the plane and takes me to my apartment in Arrieta, a small village on the northeast of the island, away from the main tourist centres.  For me Arrieta is very strategically placed, just 3km from the villages of Mala and Guatiza, the "cochineal capital" of Lanzarote.   It is also close to the village named after a particular dye lichen, orchilla, which was once another product exported in huge quantites from Lanzarote.   This holds a special fascination for many people interested in natural dyes, but is actually all-but-forgotton on the Island of Lanzarote.  The lichen now has no economic value and as a result is no longer harvested.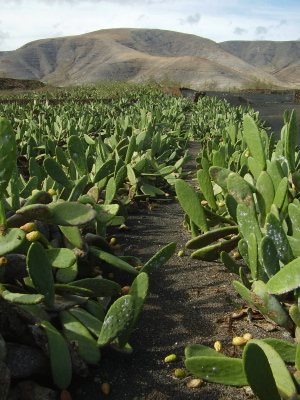 In and around Mala and Guatiza you can see plantation upon plantation of prickly pear cacti (Opuntia ficus-indica) which constitute the food source of the parasitical cochineal beetles which feed on the sap.  It´s an impressive sight and you realise just how important cochineal must have been for the villages of Lanzarote.  The grey "stains" on the cactus pads are the cochineal insects themselves, which generate a kind of white powerdry covering which protects them from the sun and (?) predators.
The cacti were introduced to the Canary Islands from Mexico, and cochineal farming on Lanzarote started in the 1830s.  The cacti were grown in walled fields or cercados, to protect them from strong island winds, and the dark volcanic ash or "picón" – more like gravel – which is so plentiful on the island – was laid down as a kind of mulch.  This covering of picón keeps moisture in the soil and also prevents weeds growing.  As a result there is very little weeding to be done but this is not to say that cochineal farming is not labour intensive in other ways.
Sebastiana Perera or "Chana" the Milana Association´s president, who cultivates a small amount of cochineal herself every year, explained how the cacti need to be looked after, and damaged pads removed and chopped up every year and left as green manure.  Then, in April or May, fully-grown cochineal insects are scooped off the cactus pads before their young are born and inserted into little cloth bags or "rengues".  The bags are hung over the cactus pads that the farmer has selected for impregnation with the cochineal and left for a day.  This time gives the young insects time to crawl through the holes in the bags and settle on the cactus pads, whilst the adult insects are too big to squeeze through and are kept back and later dried for dye.  The act of placing the bags of insects on the cacti is known as "sowing" and over the next few months they reproduce and increase in number, feeding off the cactus juice.  In August they are harvested.  Farmers use a kind of tin ladle and a tin box called a "Milana".  3 kilos of insects are needed to obtain 1 kilo of dyestuff.
Most of the cochineal was exported – to Italy, Germany, and Britain and back in the 19th century Lanzarote farmers enjoyed a brief boom.  But as soon as synthetic dyes became available demand – and prices – dropped and cochineal farming bega to decline.  On other Canary Islands, such as Tenerife, where there was more rainfall, farmers turned to planting bananas, but on Lanzarote, with lower rainfall, this was not possible, so cochineal production continued right up to the middle of the 20th century, until tourism began to take over from agriculture on the island and young people lost interest in this kind of agricultural lifestyle.
Cochineal in Lanzarote today – November 2010
Developments in the way cochineal is farmed today on a huge scale in countries such as Peru and Ecuador mean that the Lanzarote cochineal is no longer competitive in an industrial context where the dyestuff is sold in tones or hundreds of kilos.  There IS still demand for the dye, however, if not for industrial clothing dye, for use in lipsticks, nail varnishes, food colouring, particularly in sausages, and … even in Campari!  Some Lanzarote farmers are members of a local co-operative which sells to industry, but it sells very little nowadays as buyers go to Latin America.  Only when there are supply problems do the European buyers come to buy in Lanzarote – as was the case in 2010, with a German order for 15,000k of Lanzarote cochineal – all because bad weather in Peru had caused severe problems for the cochineal producers there.
Despite cochineal production on Lanzarote having all but stopped today as a viable concern it continues to leave a huge mark on the landscape and on the history of the island and some locals still produce small quantities of the insect for dyes.  Cochineal has clearly had a huge impact on the lives of the villagers;  The lady who owns the apartment in which I stayed remembers working in cochineal production in the 1950s, a time of economic hardship in Spain, the income from cochineal made a huge difference to her life.   I suspect that dozens of local people have wonderful stories to tell about their involvement in cochineal in the last half century or so.
In and around the villages of Mala and Guatiza you can still see plantation upon plantation of cacti.  It really is an impressive sight, and Juan Cazorla took along the "cochineal trail" that the Milana Association has created with assistance from the European Union.  The trail is not yet a tourist attraction that you can visit, un-guided, as it lacks signposts and information panels, but following it with Juan as my guide was a fascinating experience as he was able to explain to me how the plantations were created in the first place.  He was even able to show me a small volcano nearby which was the source of  the picón or gravel for mulching the fields.
The Milana Association is doing more than anyone on Lanzarote to keep the memory of cochineal alive, and show young people how important it was in the past.  The Association receives EC funding to keep the walls and tracks along the Cochineal Trail in good condition and, within its budget, also tries to maintain some of the cacti plantations which are adjacent to the trail.
Susana, the Assocation´s historian, researches the history of cochineal on Lanzarote, and the association´s headquarters have a small display area where you can see different products dyed with cochineal and its applications as a dye and a pigment.  The Association also has two manual floor-looms, based on the island´s traditional loom design,  and an area where dyeing demonstrations can be held.   The Association also hopes to fund workshops with local children so that they are aware of their island history.
"Cochineal" Holiday in Lanzarote 2011/2012– If you would like to visit Lanzarote on a guided cochineal-themed holiday , with the services of a translator,  in 2011/2012, then contact Anna Champeney Estudio Textil.   On the holiday you will learn how cochineal is farmed, see the amazing cacti plantations and have the chance to take part in some of the annual cochineal farming activities, find out about the history of the island and the cochineal farming, and try out the famous red dye in a dye workshop.  You may even be able to try your hand at weaving cloth with cochineal-dyed yarn.   On the holiday you will also have the chance to find out about orchila, a Lanzarote lichen which was once an important source of purple.  A minimum number of 7 people is needed in order to organize such a trip.
Asociación Milana – The Association´s headquarters, in the local school building in Mala village can be visited by visitors to the Island.  The Association sells a range of products made from cochineal, such as silk scarf squares dyed with cochineal and cochineal prints of the island.  In the Association´s headquarters you can see a display area with silk garments designed by a local fashion designer and dyed with cochineal as well as the traditional Milana tray and other utensils used in cochineal farming.  c/ Villa Nueva 10, 35543 Mala, Lanzarote.      asocmilana@gmail.com
Buy Lanzarote cochineal online
It is hoped that a full version of this post will be published as an article in a future edition of the UK Journal of Weavers, Spinners and Dyers.
My thanks go to  Juan Cazorla for giving up his time so generously when I was in Lanzarote and giving me such a fantastic introduction to the island and its cochineal tradition.  Thanks also go to Susana and Chana, also of the Milana Association.
This content is available in:

Español