Hot off the press!  AC Textile Studio featured in issue 201 of Spain´s "Country Living" (Casa y Campo) magazine
German Saiz´s stunning photographs and Monica Corredera´s text really reflect the beauty of our surroundings here in north Spain and the increasingly rare art of weaving by hand.
The great thing about magazines such as Casa y Campo and Country Living (in the UK) is that they draw attention to and value small specialist craft studios like ours which which are in rural areas, have limited production and don´t have big advertising budgets.   Click here for a taste of the feature on the Casa y Campo website, if you´re not able to get hold of a copy of the magazine itself.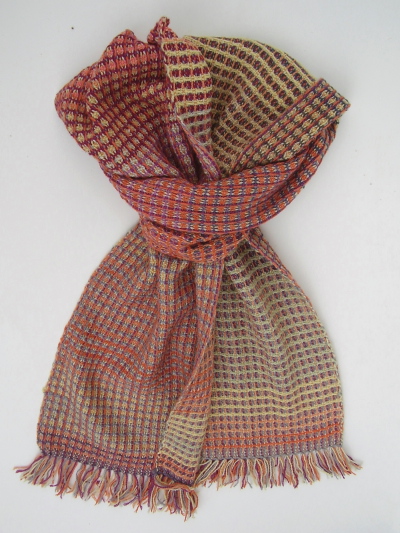 New designs available in the textilesnaturales online shop
The publication of the magazine feature coincides with the launch of our simple online shop where you can buy work like the beautifully-coloured silk/wool scarf featured here on the left.  It came off the loom just over a week ago and its shimmering colourway makes it a particularly attractive scarf.
Scarves like this are just one of the items we make, – but our aim is the same;  to make beautiful and unusual things with character to bring you pleasure both to look at and to use.
So even if you have finished your christmas shopping, do have a look at what we have so that in 2011, when you are looking for something special and different, you know where to come.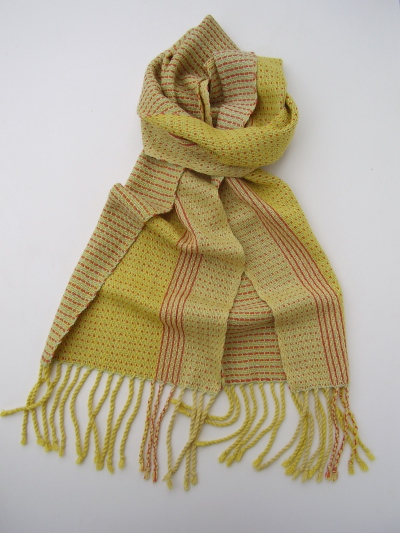 This cheerful weld yellow scarf is also new.  It is made from 50% silk, 50% woool, has a lovely soft handle, is woven in a broken twill and is also available in the shop at the time of writing this post.
New – Lanzarote cochineal and camomile dye kit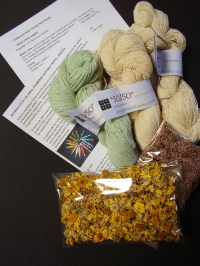 If you enjoyed reading about how cochineal is produced on the Spanish island of Lanzarote then you may like to try dyeing with the cochineal.  Our new kit contains full instructions for dyeing 150g of silk-wool yarn, which is already prepared to use (copper and alum fixative has already been applied), plus high quality cochineal sourced by us directly in Lanzarote, and dyers´ camomile grown by us without chemicals.  The kit costs 27.50€ or the equivalent in pounds sterling and you can pay by cheque or bank transfer. Buy natural dye kit (please mention cochineal and camomile dye kit).
It only remains for us to say thank you to all those who have followed the textilesnaturales blog during 2010 and sent us your feedback.  Wishing you a very peaceful and joyous christmas and hope to see some of  you here in rural Spain in 2011 for a course or holiday,
Anna and Lluis of textilesnaturales
This content is available in:

Español