Do you recognise the photo below?  Even if you do know it is a close-up of fabric being woven on a loom, how much do you know about how woven fabrics are designed? 
Spanish-based weaver and designer Anna Champeney explains the design philosophy behind the textiles on sale in the www.textilesnaturales.com shop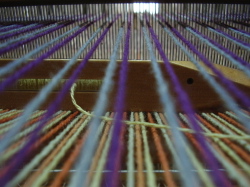 "I'll start by saying all our designs are original – we don´t copy weaving patterns from weaving books or magazines but build our designs up from scratch.  The only exception to that are our re-intepretations of Spanish folk textiles and even then we add our own unique touches.  Behind all our textile designs there is a meticulous process of testing out different ideas and variables to find the optimum design.  Sampling is one important part of this process and cloth finishing is also vital:  just  look at the photos below to see how fabrics can be transformed when they are taken of the loom and wet-finished.
Hand-woven fabrics which reflect the mood of the weaver
There are many many different variables which affect drape, softness and texture in hand-woven textiles.  Usually weavers are drawn to this complexity and the challenge of being able to direct these variables whilst being open to surprises.   Small changes in colour or the threads used can really change a fabric in a fundamental way.  Amazing as it may sound,  hand-woven fabrics can even subtly reflect your mood or energy levels;  if you are feeling full of energy you may, unconsciously, beat the lines of yarn in tighter, if you are tired the opposite may be true, affecting the softness and drape of the fabric and even changing its width!  We always keep detailed notes of what we are doing so we know how to re-create a successful fabric formula exactly if we need or want to.
The weaving workshop as a textile laboratory
Our designs process start with a basic idea which is then worked up on the loom to produce small fabric swatches or samples.  The idea can be a photograph, a particular loom setup, or even the yarns themselves.  During the design process textile studio basically becomes  a laboratory for testing out new ideas, in the firm belief that this experimentation is the key for interesting, and ever better new designs.   These are analysed and then other samples made or the sample is adapted and transformed into a final design.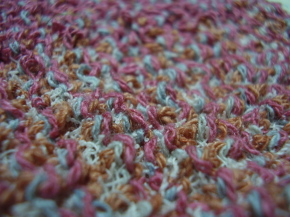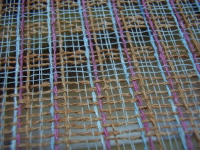 Above photos:  Waffle weave is often used by the textile industry to weave cotton towels but we have used this classic weave to create something highly colourful and textural as this close-up shows.  The first photo is the finished piece, the second photo is the same fabric but on the loom, before the fabric has been finished.
Why take so long to design a textile?
You can, of course, take short cuts to making hand-woven fabrics and leave out the sampling process altogether.  But we don't believe that they lead to the creation of an individual style or very accomplished work;  our experience is that you rarely alight on the best idea or design formula first time around.  We think that our clients are looking for distinctive work with wonderful textures and interesting designs.  This is the constant challenge we have infront of us and to meet this weavers, like any other designers, need to have adequate design skills.
Designing a beautiful hand-woven textile may require more skill than weaving it and the highest compliment somebody can pay to our skill is is by purchasing our work.
So if you are a home-weaver don't need to earn a living from making textiles does it matter as much?  I would say that definitely it does.  You need to produce beautiful work which you, your family and friends will genuinely love and use!  Also, the public perception of weaving depends on home-weavers to quite a large extent, who often demonstrate and attend community-based events.  So whichever way you look at it, design skills are important, for home weavers, professionals, and the reputation of the weaving community as a whole.
Applying the design philosphy to teaching weaving
As our weave studio is a teaching studio as well as a production studio we apply our basic philosophy of designing based on creative sampling as one we apply to our teaching as much as to the textiles we sell.   So we encourage everyone, even complete beginners, to observe what they are doing on the loom to discover the design principles which lied behind beautiful hand-woven cloth.
We also recognise that learning is a life-long process and that you can always improve your skills.  In May, for example, we are having a 3 week break from production and teaching work in order to spend time with Gina Hedegaard, to learn Danish textile designing techniques.  So don't forget to visit the blog again in May when we'll be writing up our experiences.
Collapse fabrics inspired by classic 4-shaft weaves
The textile details you see in this blog are our latest samples, woven just two days ago and inspired by an email conversation with art weaver Anne Richards (UK).  We tried taking classic structures like waffle weave and point twill and combining high twist and silk yarns both in warp and weft.  On the loom the cloth looks open, light and lacey, but once hot-washed becomes transformed.  You won't find any of these  designs in our online shop because they are currently works in progress.  But we invite you to come back to our blog in future as all our samples filter through into finished designs sooner or later!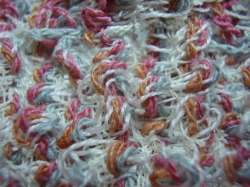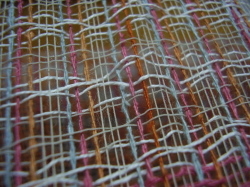 Above photos: The first photo is a close-up of a "point twill fabric" which is normally easily recognisable for its zigzag pattern.  Our sample transforms this classic fabric into something very different.  The right hand photo shows the same sample in an earlier stage of its making, on the loom.
Yarns and Textiles for sale: 26/2 nm linen (white) is available direct from AC Estudio Textile by the cone.  52/2 high twist yarn is available from Handweavers'  Studio in London.  AC Estudio Textil textiles – here at textilesnaturales.com you can see and buy a selection of our work.  For more information about our yarns and textiles click here.
Spanish holiday cottage, loom hire and weaving tuition: Come with a partner, a friend, or a group of weaver friends to stay in our comfy two-bedroom rural cottage in the beautiful mountains of Galicia, north Spain.  The cottage is just 30 metres from the textile studio where you can reserve the use of a loom to try out our yarns, work on your own project or book some personalised weaving tuition from beginner level upwards. 
This content is available in:

Español