In brief…

Sunday 10 April 2011 –
Our local paper, the Voz de Galicia, interviews us about working and living in one of the smallest and most depopulated areas of Galicia, north Spain.  The reporter is surprised to find us so upbeat about living in this veritable paradise and had no idea that there were other newcomers to the area – Galicians from big cities like Coruña, Ourense or Ferrol looking to downshift, retired couples from Madrid…
The Eco-Art Flea Market or Rastro in Monforte de Lemos (Lugo, Galicia, north Spain) – Sunday 10 April 2011
This year we have started having a stall in this new concept flea market which combines organic veg, sale of plants and brik-a-brak with local craft like ours.  If you are ever passing by on the second Sunday of each month, you can find us near the Colegio de los Escolapios, in the park by the river……
Improvements to the studio shop area at AC Estudio Textil, Cristosende (A Teixeira, Galicia, Spain)
As you can see the shop is now looking really nice.  We´ve combined the textiles and baskets now and added a new section for craft aficionados in search of basketry and natural dyeing kits, natural dyed yarns and … cochineal from Lanzarote!
Opening hours –  The shop is open during Easter, bank holidays and August (except on Mondays when we close), so if you would like to come outside those peak times please phone us to fix a suitable date/time – (T.669 600 620)
We are 35 minutes from Monforte, 40 minutes from Ourense, and just 15 minutes from the historic castle at Castro Caldelas.
New High quality cochineal from Lanzarote now available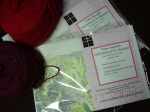 As you may know, we organised a special visit to Lanzarote last year to source the high quality cochineal direct from farmers.  We have tried and tested the cochineal and have had good results using just 10 – 15% cochineal.  Our 25g packs currently come with information just in Spanish, but if you would like a written translation just let us know when you order the cochineal and we can include one.
Weaving weekend project suggestion – Summer chair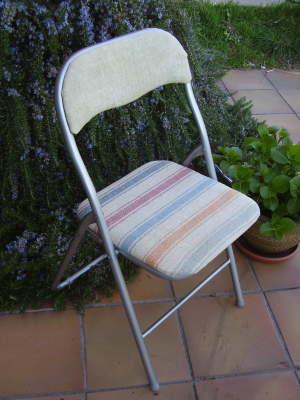 This is what I did the other weekend when I had a spare moment!  I bought a cheap and cheerful chair (well, it was upholstered in horrible, cheap orange plastic!) which could be dismantled using just a screwdriver.  I wove a piece of rustic sack fabric (inspired by the traditional stripey grain sacks of this area of Spain) about 46cm2, wet finished it, and then stapled it to the seat.  A piece of leftover plainweave rustic handwoven linen was just big enough for the chair back.  The whole project cost me about 45 euros, including the purchase of the chair!  You do need to check if the seat and back of your cheap garden chair can be separated from the rest of the chair structure.
Yarns: I used 13/2NM linen as warp, combined with rustic sack linen in the weft (but you can substitute this for a 12/2NM grey linen).  The stripes are with wool dyed with natural dyes at the Estudio Textil.  Dark blue – logwood, light blue – indigo – red – cochineal, orange – onion.
Pattern: Plainweave stripes with 2 shuttles (one for linen weft, one for wool weft)
New – Craft-themed holidays for small groups and families (minimum 3 people)
If you´d like to come on holiday with friends or family, stay at our holiday cottage, Casa dos Artesans, and enjoy a short initiation into Spanish weaving or basketry, then you´ll enjoy one of our themed weekends, which have been hailed as something of a pioneering venture by "Artesanía de Galicia".
You can choose from weaving, basketry or a bit of both, and prices start at 113€ per person for basketry (includes 2 nights accommodation at the cottage and a 4 hour basketry course) or 119€ per person for loom weaving (2 nights accommodation and a 4 hour weave session).  Dates are flexible and you can always extend your stay at Casa dos Artesans to be able to explore this wonderful part of north Spain, just 2 hours from Santiago de Compostela airport.
Collapse Weave – new designs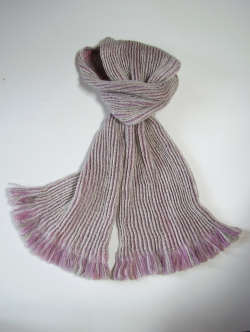 This scarf is very light and lofty and has two-colour warp in soft alpaca, wool, angora.  In the weft I have used Handweavers´ Studio 52/2 overtwisted wool and a special nylon yarn available from the Danish Yarn Purchasing Association which gives the scarf a slight glitter.
This content is available in:

Español