New – natural-dyed lambswool yarn for weaving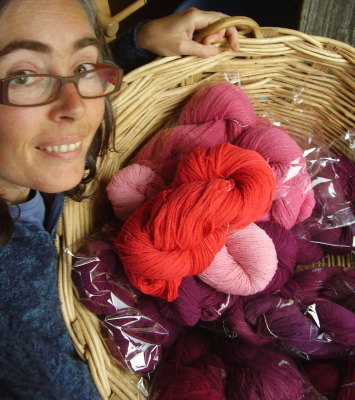 We are now starting to sell naturally-dyed lambswool yarns for weaving.  The yarns are the same as we use in our own hand-woven textile range and also in our weaving and dyeing courses and are available in 3 different thicknesses.  All are suitable as warp and weft for weaving projects but can also be used in other textile crafts.  The 4/14nm is the chunkiest and the 2/14nm the finest (makes wonderfully soft scarves).  The current stock is dyed with Lanzarote cochineal but we are also able to dye to order with other natural dyes for larger quantities.  Dyed yarns are sold in large skeins of around 85 – 100g each.  We will be launching our natural-dyed yarns this month in our local fleamarket or rastro in Monforte de Lemos (Lugo province, Galicia, north Spain) (Sunday 12 June) but keep looking at our online shop as we hope to have the yarns featured there  in due course.  In the meantime, if you would like to purchase any of the yarn, contact us by email.  If you would like to try natural dyeing yourself then we also sell the yarn undyed, on cones, and as ready-wound skeins, complete with ready-weighed fixer (alum mordant) and instructions (in Spanish – but let us know if you need them in English too so we can prepare them for you).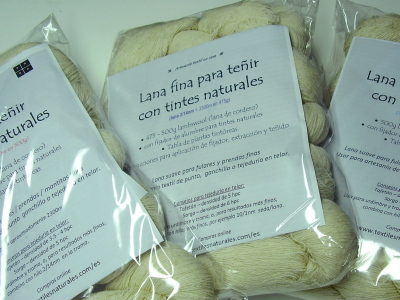 New dates for summer natural dyeing course for beginners on 20 and 21 August 2011 (course given in Spanish but we can always help out by translating terms if you don´t understand everything  )
Several people asked if there could be another introduction to natural dyeing course – in the summer – so here it is.   More information on the Spanish version of the blog here.  Intermediate level Spanish is sufficient to be able to participate.
Results of our short, intensive scarf weaving course for complete beginners – 5/6 June 2011 in Anna Champeney Textile Studio, north Spain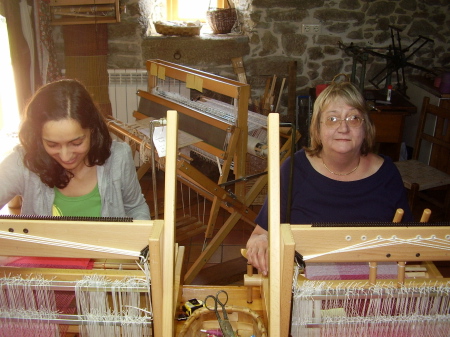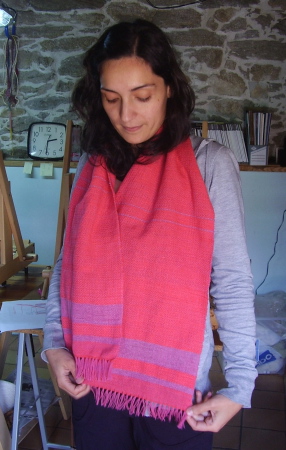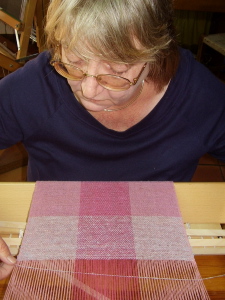 Just have a look at these lovely soft scarves designed and hand-woven by weave pupils Fiona and Maria on their first weave course last weekend here at the textile studio.  You can see that there is no need to copy anyone elses design when you follow your instincts:  Fiona´s and Maria´s personalities and individual tastes have automatically transfered themselves onto the woven cloth they created.    Both scarves used our new 2/14nm natural dyed lambswool yarn as warp and apart from the fact that one warp had just one pink and the other had two pinks they were identical.  But the two scarves are very different in feel.
Fiona created a subtle, light-weight scarf by using  tussah silk singles dyed with indigo (light blue) and liquen (mauve) as weft in her light checked scarf.  The result was cool and understated and went well with her paler skin tone.  Maria´s scarf was woven with mainly lambswool in the weft, for a warmer scarf.  She combined the raspberry pink warp dyed with cochineal with another tone of cochineal – a bright saturated orangey-red as warp, plus details of a cool mauve, to create a scarf with a zingy spicey colourway which worked well against her different, olive skin.
Weaving your own linen fabric – ideal for lace makers, crocheters
Monica, a pupil of mine, sent me this photo of the linen fabric she wove in her first weave course at Anna Champeney Estudio Textil, north Spain, using linen, which she then embellished beautifully with her own hand-made lace edging.  Weaving with linen is not that difficult – this 5-day course has been run successfully with complete beginners for over 5 years now without any problems.  So if you would like to learn to weave with linen – to make your own towels, cushions, clothing or table runners then there are still places in our 5-day intensive course in July.  Weaving your own linen table runner or scarf to embellish with lace or crochet is far more fun than buying it.  As with our other courses, Spanish is the main course language but we can always provide language support in English.  For more information (in Spanish) click here.
This content is available in:

Español