Anna Champeney Estudio Textil will lead a creative design course for fine art and fashion students at the University of Vigo in Pontevedra (Galicia) in collaboration with Barcelona-based fashion duo American Perez.  The workshop takes place at ESDEMGA (Estudos Superiores en Deseño Textil e Moda da Galiza) in the fine arts faculty in Pontevedra between the – 4 – 6 July 2011.
The workshop aims to bring together the worlds of creative weaving and fashion, taking advantage of the new surge of interest in craft which has been a surprising side-effect of economic recession in Europe.  The workshop will give students, most of whom will never have used a loom in their lives before, an introduction to weave, with the ambitious challenge of creating small textile objects to incorporate into their fine art or fashion design work.  Anna Champeney, English-born weaver settled in Galicia, north Spain, is ideally placed to work with Spanish fashion designers.  For strange though it may seem, Galicia – best known for the Santiago de Compostela pilgrimage route – is actually one of the fashion capitals in Spain and home to the creators of both Zara and Adolfo Dominguez.
American Perez are a young fashion duo, winners of the L'Oreal prize for fashion at Cibeles (the Spanish equivalent of London  Fashion Week) in 2010, whose inspiration is clearly American culture, from cheerleaders to hippies.
Expressive textile work from Anna Champeney Estudio Textil
Loom weaving is such a vast area to explore there are infinite possibilities for both functional and reflective and conceptual work.   Anna Champeney  Estudio Textil is working on a new series of pieces, some using unexpected materiales, such as cellophane bags, which use weave as a medium for expressing ideas as well as experimenting openly with traditional techniques to produce quite unexpected results.
Left – "Uncertainty" – installation piece, silk and wool with natural dyes, cellophane bags
Right – "Homage to Ikat" series in rep weave, 100% linen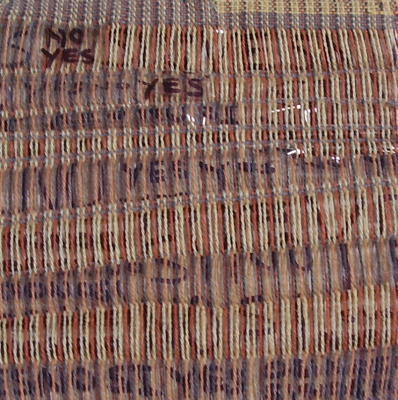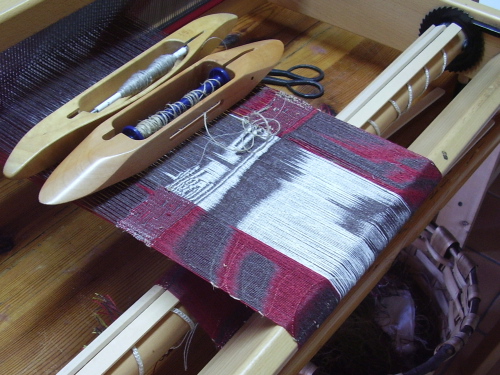 Colour work at Anna Champeney Estudio Textil – Cochineal from Lanzarote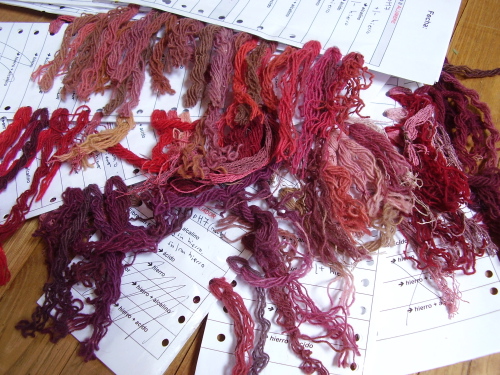 The sheer range and quality of colour used in the textiles from the studio is clearly reflected in this latest series of colour samples.  Over 130 different tones have been achieved on silk and wool, giving a huge range of choice.  It is not the same to choose an orange-red or a pinky-red in an art textile and much depends on the weaver´s ability and skill to choose and mix particular tones.  Natural dyes give complex  colours which are unsually unmatched by synthetic dyes and all the yarns used at the textile studio are extracted by hand.
If you are in north Spain on 20 – 21 August you can learn to make your own sampler of cochineal in a course, or alternatively, you can order natural Lanzarote cochineal direct from us. Contact us for details.
Casa y Campo – "House and Country" magazine– Feature on Lluis Grau, Spanish basketmaker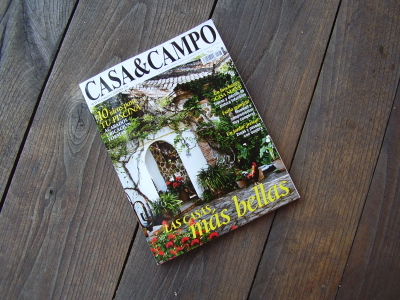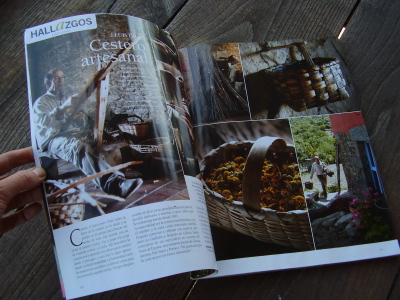 In the July 2011 edition of Spain´s equivalent to Country Living magazine, you can find an article featuring my partner, Lluis Grau´s basketry.
Lluis is a specialist in Spanish split wood and willow basketry forms  and he offers a one-week course for beginners in July. Contact us for details.
Creative collaboration between British artist jeweller David Poston and art weaver (tapestry) Jonathan Cleaver (Dovecot Studios, Edinburgh)
So you thought woven tapestry was flat???  This elegant work by David Poston and Jonathan Cleaver is subtle, rich and understated, and really shows how successful collaborations between very different areas of making can be.  The series of works was shown at Collect, London´s foremost show of contemporary applied arts.
Craft markets and events in Galicia north Spain – Next eco-art flea market at Monforte de Lemos (Galicia) – 10 July 2011
If you find yourself in Galicia, north Spain this summer then come to visit us at Monforte de Lemos.  Lluis Grau and Anna Champeney have a stall every second Sunday of the month.  The eco-art event is by the main tourist attraction of Monforte, the Colegio de los Escolapios (where you can park easily) next to the river.  As usual, you can see and buy our textiles and baskets as well as craft kits and materials.
This content is available in:

Español