Latest photos – Summer weaving, natural dyeing and basketry courses with Anna Champeney and Lluis Grau in Galicia, Spain
Here you can see enjoy a selection of photos showing work made by pupils at AC Textile Studio.  Courses this summer included traditional Spanish pile fabric weaving ("Galician felpa") for beginners, natural dyeing and Spanish basketry with willow and split wood.   Don´t forget that you can always enjoy one-to-one tution with us when you come on holiday and stay at Casa dos Artesans, our holiday cottage situated in the idyllic village of Cristosende, overlooking the River Sil Canyon, in north Spain.  Holiday breaks with us offer you a chance to unwind, develop your creativity and really disconnect to your busy lives – and surrounded by stunning scenery where you can often walk without meeting anyone else.  Craft is an activity which engages your body, spirit and mind, helping you to relax and at the same time learning something new.  We have a few dates left for September, are almost fully booked for October and November, and are now taking bookings for Spring – Summer 2012 from April onwards.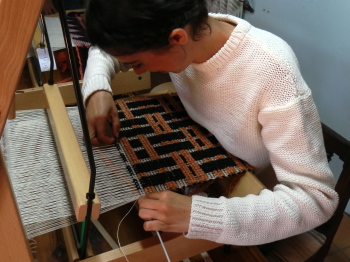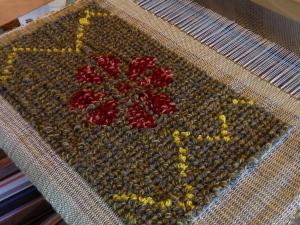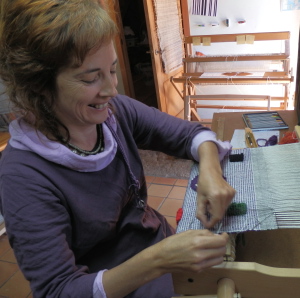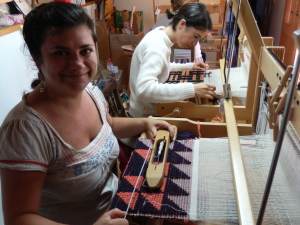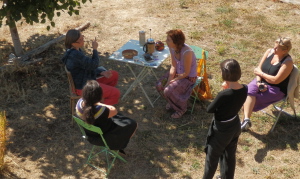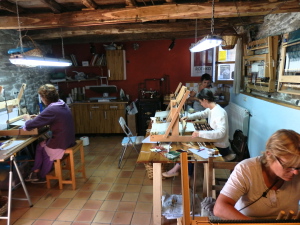 Above:  Traditional Galician Spanish textile weaving with Anna Champeney.  During the 5-day course pupils learned the back-to-front warping method for preparing Louet looms with a linen warp and then designed and wove their own piece of loop-pile fabric – felpa.  Inspiration for the designs included American patchwork quilts from Gees Bend, Galician rag felpa coverlets and simple geometric shapes.  During the course pupils used the natural-dyed wools now available online from AC Textile Studio in a range of colours including cochineal (pinks, reds, purples) and yellows (dyers´ chamomile, weld)…  You can book either a 2- or 5-day felpa course with expert guidance by Anna Champeney, as part of a craft-based holiday in north Spain at Casa dos Artesans holiday cottage.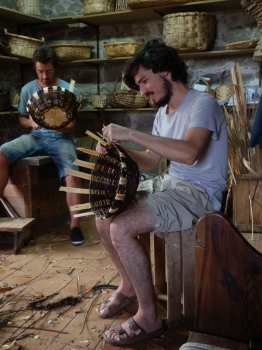 Above:  Galician Spanish basketry course with Lluis Grau.   You can learn to make this willow and split wood basket in a day of one-to-one tuition, whether or not you have previous basketry experience.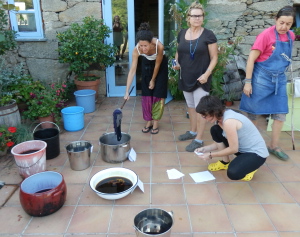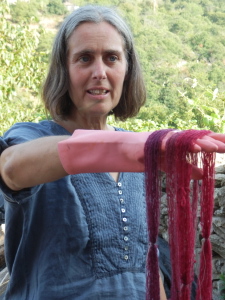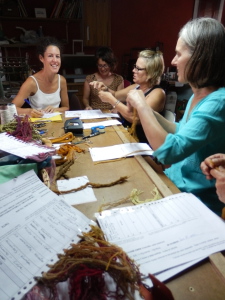 Above:  An intensive 2-day course introduced pupils to many of the basic principles of natural dyeing.  5 natural dyes were tested out including the fabulous cochineal from Lanzarote, logwood, oak bark, alder buckthorn bark and onion skins.  All pupils took a comprehensive set of samples with them, complete with the recipes to repeat the colours.  We  can offer our guests one-to-one tuition in natural dyeing which starts at 90€ for a short course.
International Textile Conference in Kaunas, Lithuania (September 2011)
Anna Champeney will be taking time out of her busy schedule at AC Estudio Textil to travel to Kaunas in Lithuania for the international European Textile Network conference this autumn.   Instead of teaching, however, she will be a pupil on the specialist dyeing course with the internationally renowned textile designer and founder of the innovative textile company in Japan, Nuno Corporation – Reiko Sudo.  If you are going to the conference this year Anna will be delighted to hear from you if so do make contact!
Basketry Fair in Salt, Gerona (Catalunya, Spain), first weekend in October 2011
Come and see us in the international basketry fair in Salt, Gerona.  We have a stand, as we do every year, at this fun and friendly fair where you can see and buy baskets from Spain and other European countries.  There is also a programme of local music, dancing, and gastronomy.   If there is a Spanish basket you particularly like, then commission Lluis now and we can bring the basket along to you at Salt.
Galician "piteira" -This traditional chicken nesting basket from north Spain makes an unusual and very snug cat basket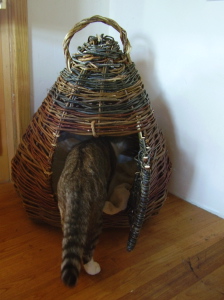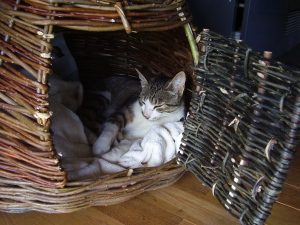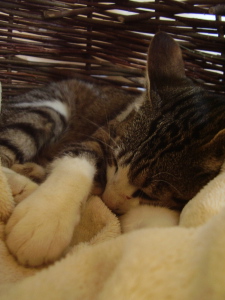 Above:  "Pele" investigates the north Spanish Galician piteira basket and gives it the stamp of approval!
Lluis Grau, basketmaker, specialises in Spanish basketry forms from the north of Spain and his latest – and very unusual – basket is the piteira or Galician chicken nesting basket.  You can order the basket and it can be sent by post (be prepared for a big package to arrive as the basket measures about 65cm H x 55cm W- or you can come for some one-to-one basketry tuition with Lluis and make a piteira yourself on holiday.  the cost of the basket varies according to its size but an average size would cost 125€ + postage.  We can´t absolutely guarantee your cat or dog will like the basket but we think there is a good chance that he/she will because our cats love it – it took them just 30 seconds to sniff it out and settle in for a first snooze.  We call the piteira their "cat palace" – it´s too grand to be called a simple "cat basket".  We think it would be the perfect basket for a cat with kittens as the mother cat is bound to feel more secure in this enclosed basket with a door, that gives her a sense of privacy and protection.    The piteira was never made in north Spain for cats, however, but for chickens.  It is one of the traditional forms which is now in danger of extinction, and part of our work is to promote a better understanding and appreciation of these wonderful, little known traditional baskets.
This content is available in:

Español