Buy Spanish Crafts for Christmas – As well as working on existing orders Anna (weaver) and Lluis (basketmaker) will be working hard in November to produce new items so look out for linen face-cloths, Christmas baskets, cushions, scarves, and split wood Galician baskets.  Have a look at the shop section here at textilesnaturales at the beginning of December to see what they have in stock.  We can send items out by post and payment can be made by cheque or paypal.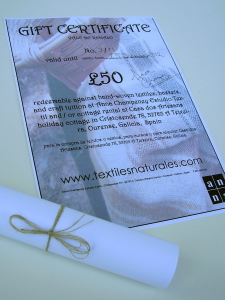 Personalised gift tokens – If yo´re not sure what to give friends and family why not them choose by giving them a gift token?  We can issue them in pounds or euros and they can be used to buy textiles or baskets in stock, for commissions, towards equipment or materials, for any of our courses – and even for a weekend break at Casa dos Artesans.    Tell us the name of the person who you would like to send the token to – we are happy to add  personalized wording to the token.
Craft courses in November and December (in Spanish) More info
Beginners´ basketry and weaving courses during Spain´s bank holiday weekend in December
How to design a weave project from the beginning (intermediate level weavers) – 19 & 20 November
Louet loom equipment – We are now expanding our stock range, as Louet´s representative in north Spain.  Anna Champeney Estudio Textil / Textilesnaturales now stock the Spring 110, Louet´s mid-range, 8-shaft floor loom.  If you have outgrown your Louet table loom and want to use longer warps then this is a good production loom, with 110cm weaving width.
This content is available in:

Español