New work in progress.  Patchings series by Anna Champeney, hand-woven linen patching inspired by traditional Galician textiles and photographs of the last elderly weavers.  January 2012
"It´s taken us a while to get back into the swing due to being away in the UK, in Suffolk and London. We met members of the London Guild of Weavers, Spinners and Dyers, before and after giving a talk on Galician felpa weaaving on 14 January and visited various galleries in the capital to see contemporary textiles and painting.  But being back in the craft studios again is great.  With commissions, new art textile projects and new courses to work on there is no time to get bored.  We don´t suffer from SAD syndrome either here.  The frosty mornings are very inviting for invigorating walks though, and they give often way to sunny afternoons" – Diary, Anna Champeney, weaver in Galicia (north Spain)
Creative winter retreat in north Spain at Casa dos Artesans
The picturesque village of Cristosende where Casa dos Artesans holiday cottage is especially beautiful against the background of the morning frosts.   If you fancy spending a month or two in the beautiful, peaceful village of Cristosende, then contact us about a long-term let for winter 2012/2013.  The cottage has central heating and double glazing and with truly inspiring scenery it is the ideal place for a creative retreat.
The London Guild of Weavers, Spinners and Dyers welcomes Galician felpa weaving shortly before a proposal for valuable folk textile research fails to secure funding in recession Spain
Recession means less funding for vital Spanish folk textile research projects, and it was with a sense of disappointment that Anna Champeney and Eva Casado received news that the Juana de Vega Foundation, one of the few in Galicia, were not able to fund their proposed Galician felpa research project.  The project, ambitious in scope, would have included fieldwork, an exhibition of original Galician felpa bedcovers alongside work of new creation, and an accompanying publication.  Time is really running out to conduct field research with the last generation of Galician folk weavers.  Whilst the Juana de Vega Foundation valued the project and found it exciting, it lacked the funds to support it.  This kind of research is simply impossible without financial support and it is unlikely that Eva and Anna will be able to continue their research without finding alternative ways to support the project.  It was therefore very heartening to recall the welcome from the London Guild of Weavers, and the interest members showed in the technique of Galician felpa when Anna gave a lecture on the subject on the 14th January 2012.   It is hoped that a group visit to Galicia can be organised later in the autumn, where it will be possible to see and handle original hand-woven Galician felpa bed coverlets.
More space for weaving courses at Anna Champeney Estudio Textil
Following suggestions from pupils for more space, we are increasing the area we devote to our weave courses at the studio to include a space on the first floor in addition to the ground floor course room.  So if you come to us for weaving tuition this year you´ll be able to choose which space to work in!  We will be making the changes to the space throughout February, however, so regret that we are not able to open the workshop to the public during this time.
Contemporary woven textiles in London – Nao Fukumoto, Margot Selby, Wallace & Sewell
It´s not easy to find hand-woven textiles in London and in fact the only ones we found were in Handweavers´ Studio (tube:  Finsbury Park), where we saw wonderful pieces by a number of hand-weavers, and in CAA (Contemporary Applied Arts) on Percy Street (Tottenham Court Road tube) where we saw very delicate hand-woven scarves by Japanese weaver Nao Fukumoto.  Prices vary between 300 – 600 pounds for collapse weave linen scarves of very high quality, with natural dyes.
For contemporary woven textiles designed by hand-weavers, we took a look at the shop of Margot Selby, (Galen Place, a short walk from the British Museum), and found the shop full of her signature fabric, applied to scarves, jackets and even shoes.
Contemporary Weaving Patterns:  Weaving with Colour and Texture by Margot Selby. Book review by Anna Champeney.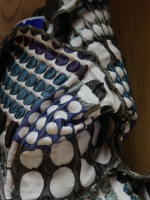 I´ve never met Margot Selby but I think she must be a woman of tremendous energy.  This is not just because of the lively use of colour and texture in her designs, but because as well as developing her own textile business, managing a shop in central London and appearing on tv, she has also recently published a book, Contemporary Weaving Patterns, which she describes as " a unique guide to over 150 exceptional patterns".  The book is one of the few which could inspire young design-conscious potential weavers in what can sometimes seem like a rather worthy-but-dull area of weaving literature.
Perhaps a coding system for the different projects would also have been useful so less experienced weavers would be able to easily select which of the projects could be tackled by them.  Fine singles yarns, warp setts of 60 e.p.i and projects requiring either 8 shafts or two back beams are not for complete novices, despite text which suggests that the book is for everyone, from beginners upwards.
Really, in order to get the most out of this book I think you need to be confident in using and setting up a loom, know how to calculate yarn quantities for projects (especially as most of the projects require quite a few different yarns and it could work out really expensive if you buy more than you need just in order to cover yourself for the project)  plus a familiarity with cloth drafting and adapting threadings.  Beginners with limited experience in warping or using fine yarns may well find some of the fine yarns and high warp densities quite difficult to tackle.  On the other hand it is good to challenge your limitations and  I have had pupils come to my workshops who have been weaving for a number of years in the UK and maintain that it is "difficult to work with linen".  Sometimes it is actually better to go for something you like, even if it ends up being a lot more challenging than initially thought and hand-weavers do need to be encouraged to be less cautious and resistent to new or difficult things!  I should also add that to get the most out of this book it is preferable to have an 8-shaft loom as many of the designs require this, and a second back beam is also necessary for one of the warps.  This can be seen as a rather long list of requisites – particularly for beginner weavers, but perhaps a book like this will inspire people to go a little further than they would otherwise aspire to do.    The fact that I don´t really consider this book for complete beginners isn´t a criticism of the actual content of the book, however, only a comment about recommended experience levels required by users, and I think weavers at every level will feel visually inspired by the book.  The use of colour in the designs is really pleasing – a nice change from the rather dull or harsh colours in some weave books – and the section on stripes is useful as is the section on developing a colour palette is a nice addition (again, I note that Margot also supposes that readers know something about colour theory by mentioning the colour wheel without explaining what it actually is).  I think it´s great to include a chapter about the properties of the differernt yarns used in the book and their qualities and it´s a shame there isn´t a suppliers´ list to go with it.  Handweavers´ Studio in London supply many of the yarns by post, for example, even though it could cost a small fortune to acquire all 32 different yarns required by the different designs in order to weave all the samples (actually more, once you take the different colours into consideration).  Weavers in Spain would also find it almost impossible to acquire many of the yarns required – or adequate substitutes – for the different projectsl.  I´m not sure to what extent the value of the book is more for visual inspiration – particularly in terms of the colours and textures used – or as a practical teaching or learning aid.  Whatever, I would recommend the book for weavers´ bookshelves, especially in teaching rooms.  Inspirational and visually attractive weaving books are in short supply and this is a useful addition.
This content is available in:

Español