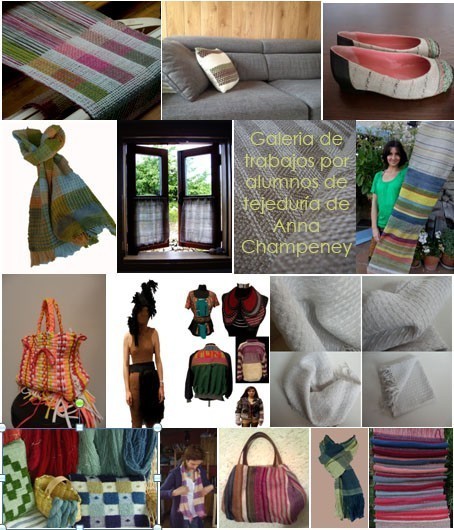 Here you can see textiles woven by some of our pupils – both beginners and those of a more advanced level.
Some of the photos are of pieces made in the courses themselves, others made by students on their looms at home.
All woven textiles (except those from ESDEMGA students) were woven on Louet table looms.  You can see the sheer versatility of these compact little manual cloth weaving machines – scarves, cushions, curtaining … even fabric for shoes!
If you are one of our pupils then don´t lose touch with us – we´d love to see your latest work and feature it on a future gallery.  And if you´re not one of our pupils then !Animo! Go for it!  Learn to weave your own beautiful and special fabrics on handlooms on one of our courses.  We offer English language support if you´re not confident about your Spanish, and have limited availability every year for some one-to-one tuition which we can give in English.
Próximos cursos (Next courses)
Pupils:  Thanks to Tracey, Kathleen, Gonzalo, Carmen, Itziar, Enriqueta, students of ESDEMGA fashion school, Gerda, Tracey, Adela, Myfanwy and Solé whose work is on display here.
This content is available in:

Español