The simplest of looms can produce sophisticated and fun results with a bit of imagination and daring, as Spanish Fine Art and Fashion students demonstrated in a recent Creatividad (creativity) workshop aimed at fusing the worlds of fashion and craft.  Spanish fashion designer brand American Perez teamed up with profesional weaver and textile artist, Anna Champeney, to lead students in an intensive workshop in which each student had to develop their own methodology, design and realise a weave project from start to finish, in just three days.
The workshop reflects the typically innovative approach to fine art and design education adopted by ESDEMGA which focuses on creative and experimental processes.  The creative partnerships between profesional Spanish craftspeople and fashion designers were formed to enable students to experience the different approaches taken by each sector to design and making as well as to discover a hands-on, process-based approach to design which encourages a greater sensitivity to textures and fabrics.
Veronica (ESDEMGA) weaves textural felpa fabric (traditional Galician loop-pile fabri) to create a bag
Yeray Suarez combines glorious colours and textures to convert into a belt (ESDEMGA)
About the rigid heddle fringe loom
Looms similar to this one – measuring about 20 x 8cm – were common in Galicia, north Spain.  They were used to weave narrow bands of woven cloth with fringes and tassles which were then sewn onto the heavy, hand-woven folk coverlets as an extra flourish in the overall design.  Yarn wrapping and macrame techniques were also applied to the fringes to achieve different effects.  The ESDEMGA fashion and art students didn´t confine them to traditional linen and wool yarns, as the folk weavers did, however.  The brief, presented by Anna Champeney, at the beginning of the creative workshop, was to develop a metholodogy from scratch, using any and every material and yarn which could be used.  As such students used copper wire, wools and linens, strips of recycled cloth, and even 3-d objects and short lengths of willow (more commonly used in basketry not loom weaving) to weave with.  Narrow bands of woven fabric were combined and sewn together to make larger scale fabrics or 3-d objects such as bags.
Gallery – Creative Craft and Fashion Design Workshop at ESDEMGA (Faculty of Fine Arts in Pontevedra, Galicia) Spain July 2011
Congratulations to all the workshop students who worked so hard during the project:  Raquel Álvarez González, Marta González Fortes, Cintia Roberta Cuesta, Maria José Rodríguez Garcia, yeray Suárez Arenas, Pilar Ullod Rivera, Cristina Varela Casal, Maribel, Andrea y Carla.  All the pieces in the gallery below were made on the small fringe loom, as in the photo above.
More information:
Buy a small fringe loom from AC Estudio Textil for 15,50€ + p&p
ESDEMGA website
Linen herb bags – in stock again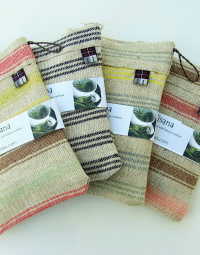 Just to let you know that our traditional Galician linen bags with lemon verbena grown here by us are now in stock again.  See the shop for more details.