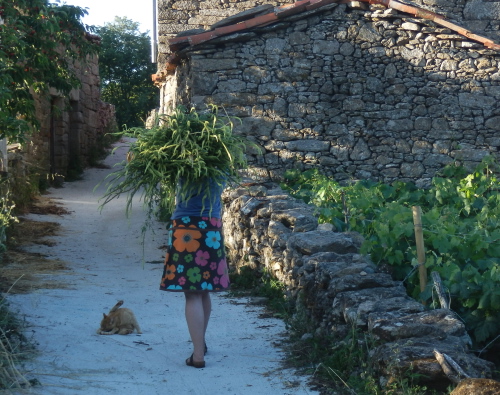 Bundle of locally-harvested weld (Reseda luteola) being carried to Anna Champeney Estudio Textil in Galicia, northwest Spain, for dyeing wool and linen.
Natural Dye Course – 28 / 29 July 2012
If you´re interestesd in sources of natural colour for textile design and yarn craft this course is for you!  You´ll have the chance to test out this weld to dye soft lambswool yarn with gorgeous shades of yellow and green.  On the course you will also be using the high quality European cochineal from Lanzarote, obtained directly from local farmers!
Cost:  125€
Where: Anna Champeney Estudio Textil, Cristosende, 32765 A Teixeira, Ourense (nearest airport Santiago de Compostela / A Coruña) Spain.   About 5 hours drive from Madrid.  About 45 minutes drive from Ourense train station and 35 minutes from Monforte de Lemos train station.