Loom-weaving and basketry tuition with Anna Champeney and Lluis Grau in the beautiful and unspoilt Ribeira Sacra, Galicia, Spain.
* Dates to suit you
* Flexible hours – combine a holiday with craft tuition.
*  Learn with professionals – we are specialists in loom weaving, woven textile design and Spanish willow and split wood basketry.
* Our tutors are Anna Champeney and Lluis Grau, experienced and inspirational professional craft makers as well as respected tutors at both beginner and more advanced levels.  We teach in Spanish and English (basketry in french too)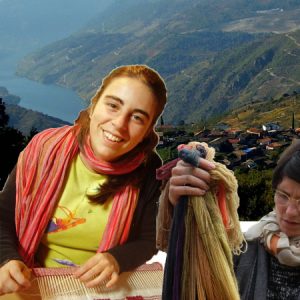 Beautiful location – Our courses are given in the picturesque village of Cristosende in the heart of north Spain´s Ribeira Sacra, an ideal and tranquil location with superb mountain scenery, good walking and local food and wine.  2 1/2 hours drive from Santiago de Compostela or A Coruña airports or approximaately 5 1/2 hours drive from Madrid.
Small groups for quality tuition – Our courses admit up to 8 pupils.  Organise your own group and contact us with your ideas at least 6 months in advance.
Accommodation options – Stay in a self-catering room at our studio, rent a cottage or stay at local b&bs or rural hotels.  Contact us for more information.
One-to-one masterclasses and individualized tuition (limited availability to book early)
Wide range of courses (Textiles:  Loom weaving for beginners, Spanish loop-pile weaving, double weave, fabric analysis and cloth drafting for weavers, introduction to woven textile design, natural dyeing, lichen dyeing.  Basketry:  Willow or split wood basketry for beginners, intermediate and advanced levels, Catalan twisted border, double-baskets "pelapatas", Galician chicken nesting baskets, Snail baskets, Spanish mushroom baskets, lidded willow baskets, horned "bres" baskets from the Pyrenees, "upside down" Spanish basketry (start from the border not the base).
This content is available in:
English